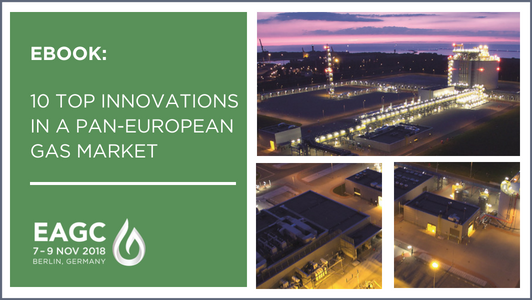 Throughout Europe and the rest of the world, the gas and broader energy industry is experiencing rapid change, and incumbents are being forced to reconsider their business models and product offerings.
By downloading this eBook you'll find out:
What innovation 10 industry experts are seeing in their area of the market

Which technologies are changing the face of trading and decision making

Why a dynamic environment in politics and regulation is key to the EU gas market

Who believes an implementation of a common European gas market is key for industry change
Contributors of this eBook include: Gelsenwasser, Nord Stream 2, Enagás, Gascade, Zukunft ERDGAS, Oliver Wyman, Naftogaz, Total, CEGH and RWE Supply & Trading.
We hope that you enjoy our latest eBook, and if you would like to hear more on innovation within Europe's gas market by top industry experts and leaders, register for the European Autumn Gas Conference, 7-9 November in Berlin.