Download our eBook to explore 10 industry leaders' views on how to advance the LNG industry in Canada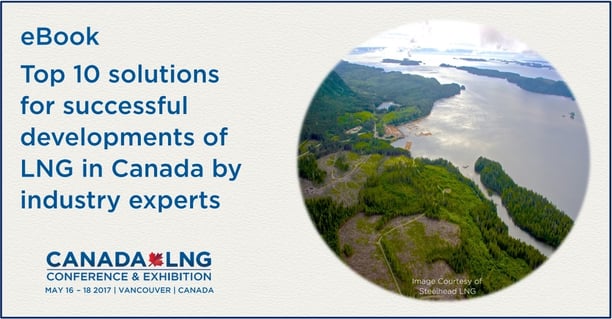 Canada's LNG industry is at a time of opportunity and ingenuity. Despite the market dynamics continuously changing, the world-class natural gas resources in British Columbia are not going anywhere and industry insiders are ready to take advantage of the next window of opportunity.
In this eBook you will:
Gain insight into 10 key industry leaders' practical solutions to aid the growth of the LNG industry in Canada

Learn why cost competitiveness is not the only viable option

Explore why it is important for Canadian projects to form and sustain business partnerships

Identify how the industry can implement these solutions in order to successfully develop
Contributors of this eBook include Bechtel, Black & Veatch, Ferus, FNLNG Alliance, FNLP, Genscape, Havlik Metcs Ltd, KPMG, PwC, Red Box Energy Services and Steelhead LNG.
We hope you will enjoy this eBook and if you would like to discover more about the evolving Canadian LNG industry, the Canada LNG Conference and Exhibition Post Show Report is now available to download.